Pot Zero's mission is to create the most environmentally conscious marijuana products available in Colorado and beyond. Our vision is to produce with passion the cleanest, greenest, and 100% sustainable branded marijuana products in the industry. By maintaining a zero carbon footprint and zero use of chemicals, our cultivation process preserves our natural resources while providing a clean, safe, and renewable product. All operations powered by our own hydro-electric turbine, and the rest is provided by the sun.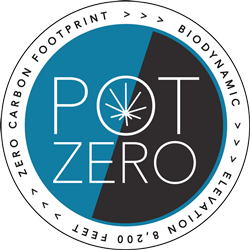 Colorado's Only Zero Carbon Footprint Organic Cannabis Farm
Our organic marijuana is cultivated with zero carbon footprint and zero chemicals. Working together with nature and the western slope of the Rocky Mountains, our Colorado cannabis farm specializes in rare cannabinoids CBG, CBC and THCV.